Punch a Nazi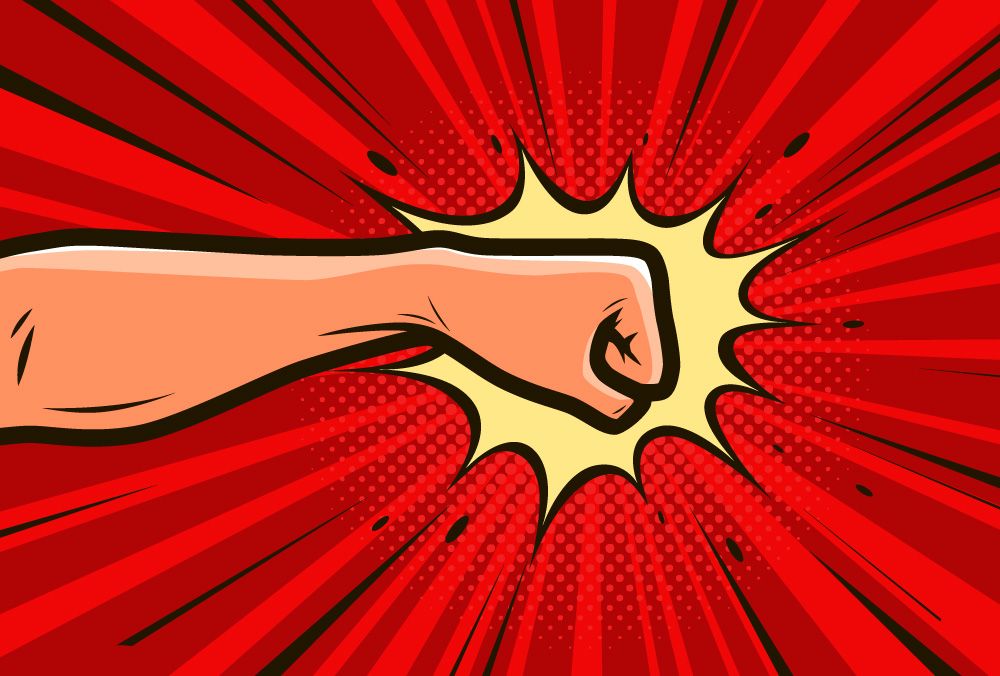 "Dude! Punch a Nazi!"
"Um... Just a second. It sounds like you're advocating public violence in the form of an assault of strangers. Isn't that illegal? And immoral?"
"Well...maybe it's not legal, but it's definitely moral."
"Okay, so we've established that it is illegal. You are propagating an illegal, violent act."
"Well, the thing is, it's moral."
"Why is it moral?"
"Because they're Nazis!"
"So, as long as they're part of the correct demographic, it's okay to assault them?"
"Yes."
"Got it. While that might not pass any legal test, let's assume that your argument is basically correct and move forward. Now, have you ever met a Nazi? They have party membership cards and wear specific uniforms, and they're alive and active in the 1930s and 1940s in Germany."
"Well, I mean, not a REAL Nazi, like that. But people who are LIKE Nazis."
"Okay, so we've established that you are advocating illegal public violence against a specific group of people, based on their demographic, but it also seems that you're a little shaky on who exactly those people are. So, what is the exact qualification for someone to be 'like' a Nazi?"
"Well, they're racists."
"Okay, so we've changed track now. You're actually advocating that people should punch racists?"
"Yes. Totally."
"So, you were just using the term Nazi to be inflammatory?"
"They deserve it because they're racists."
"Right, so we've established that it's the racism that is the real issue here. So, you're saying that we should find racist people who are like the Nazis—say, for example, those who oppose the Jewish state of Israel—and punch them?"
"Um… No, I think Israel is a Nazi Apartheid state. Most of today's real racists support Israel."
"So, we're not talking about Nazi-style racism against Jews? And your belief is that the real Nazis of today are those who support Jewish Israel, which was founded as a result of the actual Nazis chasing the Jews out of Germany? That, in fact, the Jews themselves are Nazis? That seems contradictory."
"Well, I mean, I'm talking about racism in general. Not just with Jews."
"Fair enough. So if, for example, someone uses a derogatory term about white people, someone else should punch them?"
"No, definitely not. It's the other way around."
"Ah. So, you should actually ignore racism as a broad category and only use it selectively. You should only punch people of the correct color who make derogatory comments?"
"Yes."
"Isn't that racist?""No."
"I see. So, we've established that you're advocating illegal public assault, based on a double standard, against a poorly defined group of people, who generally support the people that Nazis most opposed. So far, so good. So, what exactly qualifies these people as racist Nazis, in the context of it being the right kind of racism to meet your qualifying criteria?"
"Their hate. They're not inclusive."
"That sounds like a very broad, vague, and flexible definition, given that the outcome is so certain and so violent. It's also completely subjective. It almost sounds like you get to decide who meets those criteria, and then you get to enact violence upon them as a result. You're both judge and executioner to perfect strangers, whose backgrounds, lives, values and stories you don't know."
"Well, you know racism when you see it!"
"How do you know it when you see it?"
"They talk about things like border control; and they're nationalistic; and they deny that minority groups are victims."
"Those sound like political beliefs."
"Exactly!"
"So, you should punch people for their political beliefs?"
"Yes, their political beliefs make them Nazis."
"But those political beliefs are not inherently racist or hateful. They're also not inherently Nazist. Controlling a nation's borders is normal. All nations do it. It provides security. Being nationalistic just means you love your country, which includes all its minority groups. And telling people that they are not victims empowers them. Conversely, continually telling them that they are victims disempowers them."
"Well, my sociology teacher told me that those things are racist. They're exactly how Nazism began."
"Your sociology teacher is a radical Marxist, who doesn't know his history. He appears to have re-defined normal, moderate families and concerned citizens—and even normally functioning nations—as 'Nazi.' That's called 'concept creep.' And based on that fantastical imaginary stretch, you and he are fermenting violence together. He is the political ideologue, and you are his foot-soldiering thug. You even have a violence-promoting slogan for your misguided civic views: "Punch a Nazi." Have you ever considered that you might be the oppressor?"
"No way. Everyone thinks the way I do!"
"And if they don't, you punch them, to make them think like you?"
"Um. Well, if they're Nazis, then yes."
"That's exactly what a Nazi would do. Your message is: conform to my political worldview, or I will carry out violence upon you."
"Well, I think all those things they believe are racist."
"But I don't."
"That's because you're a Nazi."
"Then go ahead and try it, junior. Don't be surprised if you wake up in a hospital ward."
About the Author: Douglas Kruger
Douglas Kruger is the author of several bestselling books. In honour of excellence in his craft, he has been inducted into the Speakers Hall of Fame. He is a member of Mensa – the High-IQ Society, and he holds a degree in Philosophy.